How you connect Things to the Internet
Utility giant RWE supports reinvented business model with best-of-breed home-automation
Innovative utility company builds customer loyalty through home-automation services
A market leader in home consumer products confidently enters home-automation arena
Seluxit delivers cutting-edge embedded electronics and IoT protocol innovation
RWE company profile
RWE is Germany's second-largest utility company measured by sales volume (and among Europe's top 5), boasting around 63.000 employees, 16 million electricity customers and 7 million gas customers. Their 49 GW of capacity come primarily from coal and natural gas with a smaller fraction coming from nuclear, oil and renewables.[1]
A series of recent market and regulatory developments in Europe have led to an erosion of wholesale energy prices and other pressures with a direct impact on utilities' traditional core business. In response, RWE has decisively realigned their strategy, "not only by investing in renewable energy, but also by selling innovative products and services."[2] As a pillar of this transformation supporting the general transformation of the European energy system, the division RWE Effizienz GmbH has focused on the realm of smart homes – providing services for their customers' comfort and security as well as energy optimization.
Challenge
RWE developed ambitious business requirements in the energy-efficiency sphere to be a leader and first mover. With regards to their smart-home solution, they also needed a future-proofed system to be able to meet the ever-growing possibilities the IoT will provide. Because of these high standards, they needed a partner at the absolute forefront of embedded technology.
RWE developed ambitious business requirements in the energy-efficiency sphere to be a leader and first mover. With regards to their smart-home solution, they needed a future-proofed system based on best-practice emerging technologies. To fortify their efforts, they sought a technology partner with smart-home / smart-grid competency that could assist in addressing technologically complex issues of security and encryption as well as assist in the creation of a new and superior protocol based on the most advantageous established standards which would seal their position as the technological leader in the field.
RWE needed a partner who could keep pace with RWE's position at the absolute forefront of embedded technology.
Solution and benefits
Seluxit has been able to meet RWE's high bar of excellence and help position them as innovators in the smart home sphere. Seluxit's involvement with RWE was centered around a series of 18 devices including a gateway or central control unit. These devices included thermostats, transmitters, adapters, smoke detectors, door and window sensors and motion detectors and dimmers.
The work performed was mainly on two fronts: embedded electronics development in the physical devices and communication protocol specification and implementation. In a nutshell: making the devices themselves smart, and enabling them to communicate in an advanced manner.
The embedded-electronics work was focused around wireless communication SIP (system in package) module design, which is a technique of miniaturizing functionality ultimately reducing complexity, reducing time-to-market and reducing potential errors.
The subsequent communication protocol specification and implementation (Lemonbeat) resulted in a novel, innovative, secure, high-performance sub-GHz wireless protocol using binary XML (EXI) and the established standards of TCP / UDP and IPv6. This means that together with RWE we have utilized various existing standards of web communication in a demanding environment to achieve IoT capabilities.
In our work together with RWE, we have together secured 4 patents, and an improved second generation of devices is well underway.

Seluxit provides scalable IoT gateway and server platform solution
Utility company profile
This European utility company provides at its core traditional electricity services, having interests both in the generation and distribution of electricity. But this business sector has been hard-pressed in recent years, following industry-wide trends that show further challenges ahead.
The company has heeded the call for innovation in light of these industry challenges. The company has strategically diversified their offerings to include fiber-optic TV/broadband as well as a series of energy-optimization and alternative-energy-generation solutions. These products include heat pumps, windmills and solar cells.
In recent years, they have also diversified into the realm of home automation (smart homes), distributing a series of internet-enabled devices (smart things) as well as offering a gateway and a user interface to enable end-user control and measurement of these devices.
Their home-automation solution includes smart lighting, smart plugs with metering capabilities, as well as smart thermostats based on low-power, wireless Z-Wave technology. Furthermore the solution also supports wireless M-Bus technology, which is the de-facto standard for smart meters such as electricity, heating and water meters. The solution provides real-time control and monitoring giving the end-customer full control of his home./p>
The move into alternative-energy-generation equipment and even more so home automation are indicative of an important organization-wide stratagem aiming to increase customer engagement and thereby customer loyalty, as an important pillar in their future development.
Challenge
This European utility company was previously a reseller of another vendor's proprietary home-automation system. This vendor's solution was limited in the number of devices and technologies it supported. Moreover, it was a closed proprietary system. The arrangement presented a barrier to the utility company's goal to be able to steer the course of the future development of the home-automation system, both in terms of branding, but also in terms of being able to control which devices and accompanying technologies will be supported in future generations of their offerings.
The control of the course of the development of their home-automation solution is essential for meeting their goals to build customer relationships and loyalty through their offerings, and therefore their previous solution was a barrier to achieving this strategic goal.
The challenge then was finding a technological partner that could realize an IoT platform for which they could take ownership.
Solution and benefits
Seluxit tailored an offering from its off-the-shelf platform which fulfilled the utility company's requirements for owning and controlling the course of their home-automation suite. Seluxit provided a gateway and a server fitted with an open API that communicates with the devices and the user interface. Seluxit's gateway was already developed to integrate wired M-Bus technology, but Seluxit needed to develop the capabilities with wireless M-Bus as a part of the overarching project, an example of adding a communication technology to the gateway that can easily be achieved, without disturbing the rest of the stack.
Seluxit has competencies ranging from hardware to the user interface, but in this case the utility company is relying specifically on our expertise in the device communication to the our own OEM-versioned gateway and our REST-ful API which they use to integrate with their own server. Seluxit also provides assistance with the UI.
By linking in their own servers into the overall solution architecture, the utility is able to take complete ownership of their home-automation suite and have exclusive ownership of the data collected. The solution provides a solid framework with eminent scalability for future additions to their suite.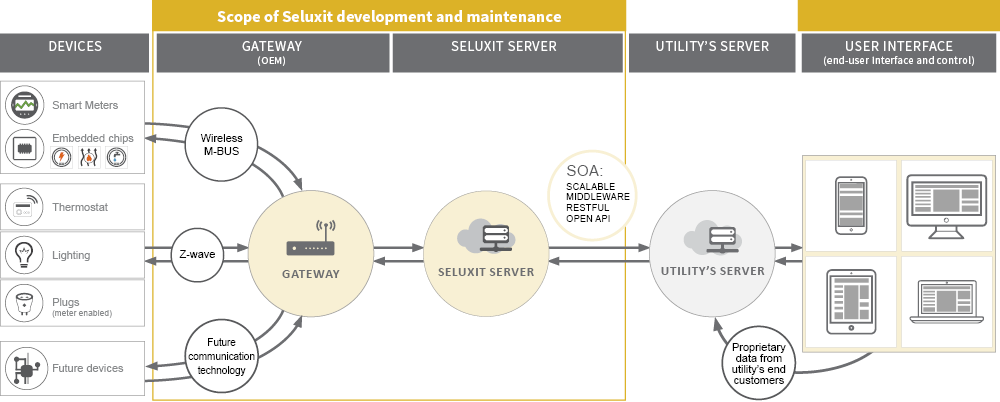 Seluxit delivers concrete IoT technologies and end-to-end consultation
Home consumer products company profile
This European home-consumer-products producer is an international market leader in the range of products it offers. The company is witness to a changing environment in the market, where superior traditional products alone are no longer sufficient to keep their market share. There is an increased market demand on the products offering services to the consumer, providing the consumer with convenience, security, financial savings, and other benefits. These are the beginnings of the phenomenon of the Internet of Things. Customers are coming to expect smart products with enhanced functionality, and all signs point to market readiness in terms of demand.
This changing consumer-demand environment entails competitive pressures, as first movers in their product domain have already executed solutions encroaching on their product domain. The consumer products company strives to be leaders in the market through innovation, design and time-to-market, so they clearly needed to follow suit. And recognizing the enormous future potential of the domain, and the current offerings, they recognize an opportunity to build a solid basis to outpace their competitors and fulfill their company strategy.
Challenge
Since the home-consumer-products company has a degree of expertise in certain aspects of embedded electronics, they tried their hand at making their devices IoT enabled – but their efforts had significant shortcomings that impeded their forward progress. This is a common pattern visible in the market, where the technical difficulties of integrating a device in a home network are often underestimated.
Facing market pressure with competitors able to fulfill the new customer demands, the company realized that they needed to act quickly to come to the market. Because of the seasonal nature of the company's product assortment, time-to-market is a particularly sensitive topic.
Facing challenges in internal attempts, the challenge was finding a technological partner that could get them results, offering a stable, proven technology that could be deployed quickly. They specifically needed help with designing the hardware as well as the communication protocol and the IoT platform. Moreover, they needed consultation regarding the end-to-end solution.
Solution and benefits
Seluxit provided a wide-ranging solution for the company, focused on three areas: embedded electronics, communication protocol and the IoT middleware platform. In addition to specific tasks in these areas, Seluxit also provides consulting on the entire scope of the project.
Seluxit has helped design how the embedded electronics will be fitted into their existing product assortment. The project also utilizes an innovative and high-performance sub-GHz communication protocol which Seluxit has specified and implemented. The protocol uses binary XML (EXI) and the established standards of TCP / UDP and IPv6, thus utilizing various existing standards of web communication in a demanding environment to achieve IoT capabilities. The IoT platform we provide leverages Seluxit's open REST-ful API middleware installed on our own OEM version of our gateway and own server to enable communication to their own UI.
The company has chosen to handle various aspects of the overall solution themselves, including aspects of the server architecture and the user interface, but because Seluxit has end-to-end competencies in the IoT, they have the ability to leverage our expertise in all areas.
With Seluxit's help, the company will be able to meet their high quality requirements in a tight time frame, obtaining a stable, secure and robust system with a quick time-to-market.